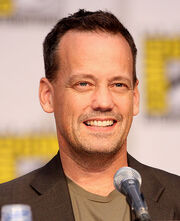 Dee Bradley Baker is an actor, best known for his animal sounds and realistic german accent. He is also the star of this wiki.
Biography
Edit
Baker was born in Indiana and grew up in Greeley, Colorado. He started performing at the age of nine and steadily worked in musicals, operas, plays, and stand up until college.
He is a graduate of Colorado College, located in a town called Colorado Springs, where he studied philosophy, biology and german. He worked as a stage actor, stand-up comedian, and singer after college, which led him to Los Angeles, where he established his career as a voice actor.
Ad blocker interference detected!
Wikia is a free-to-use site that makes money from advertising. We have a modified experience for viewers using ad blockers

Wikia is not accessible if you've made further modifications. Remove the custom ad blocker rule(s) and the page will load as expected.